Leapdroid for windows: Android Emulator software that helps run an android operating system on any other operating system. Emulator means imitation. It is called the emulator because it helps the host operating system to imitate another different operating system with the same hardware. So, an Android emulator is software that helps any other operating system to behave like an android operating system. There are many emulators present in the market most of the emulators are used for playing games on personal computers. And Leapdroid for windows is one of them.
Leapdroid for windows
In this article let's know about an android Emulator called Leapdroid for windows. Most people want to experience gaming on a big screen but android, as we know, is the biggest platform where are several independent developers can put on their apps for people to use. A Windows and Apple store does not have a big catalog of apps present in their stores. Most of the applications that we see on Android cannot be found in other operating systems.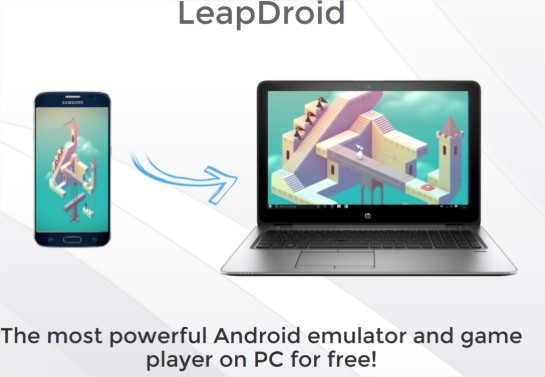 So, in order to use those applications in non-Android operating systems, we need the help of android emulators. Such is the use of emulators that there were several millions of downloads for each Android Emulator around the globe. This article will explain to you about leap droid android Emulator, how to use it, and also how to download it along with the features of the emulator. If you want to know information about dark modes visits our site Alltecinfo.com
What is Leapdroid for Windows Pc
Leapdroid for windows Android Emulator is software that allows your Windows PC to work as an Android device. leap droid was founded by Huan Ren and Huihong Luo in 2015. These two people later joined Google and the development was stalled. It was one of the best android emulators 10 times. They also used virtual machine techniques to provide an Android experience. The official website also says that there will be no further updates for leap droid Android Emulator.
Leap droid was particularly developed for gaming and also attained its peaks of recognition due to its gaming capabilities. The largest screens provide a free and thrilling experience without buying any new phones. It was also said to be the fastest of all emulators in that period. You can still download the applications and from third-party websites. Let's look into the features of this leapdroid for windows Android emulator.
Checkout: Reddit dark mode
Features of Leapdroid Emulator:
There are many amazing features in this emulator; the very fact that the founders of this emulator were hired by Google tells us the credibility of the app.
It has one of the fastest boot-up Times. The company also posted benchmarks claiming to be the fastest emulator in the world.
The installation process is very simple and anybody can install it without any trouble.
It is essentially stock Android and there is no bloatware installed in the emulator. it is a very clean and efficiently done emulator.
Almost all the Android apps were great but since the developers have boasted it to be a powerful gaming emulator; it does a fair job of balance in both the productivity apps and games equally.
Almost 99% of all Android games work on this Android Emulator. The games are really stable with solid frame rates and better performance compared to other emulators.
It also has key mapper functionality games like arcade games and reality games.
The sidebar containing the menu is one of the most sought-after things in this emulator. It makes it easy to use the app and change between screens very easily and smoothly.
It has high-end graphics with every smooth frame rate they are no shutters or any other disturbances in the world.
The user interface is very easy and simple
The internal memory remains as that of your host Computer memory.
You can customize your Ram, resolution, and other screen aspects.
The only problem with this leapdroid for windows Emulator is that it has no updates since it has been shelved after the owners started working for Google. So, slowly this emulator may lose its trusted fan base. Yes, there are people who still use this emulator in 2019.
APP INFO:
| APP Name | Leapdroid |
| --- | --- |
| Size | 82.3MB |
| Version | 11.0.0 |
| Compatability | Windows, Pc, and Android |
| License | Free |
| Category | Emulators |
How to Download and install Leapdroid
It is available for both 32bit and 64bit versions as well.
Click the link and the download will start automatically
Once the download finishes
Double click on the .exe file
Press ok for the permissions
Follow the installer's installation process
Once done click 'finish"
Open the app
Your download is now ready for you.
If you want to know about top emulators for windows10,7,8 click here.
Recommended: If you want to download a free text message app then click here to get textnow application on your Android device. With the help of this application, you can do unlimited text messages and online calls.
Conclusion:
Even at a time when this emulator is part of history still, use Leapdriod for windows emulator here and there. Such was the name of the emulator when it attained its peak stage. But unfortunately started working for Google and shelved the idea of developing this further.
So, for people who want to have an emulator that is updated consistently then this app is not for you. But if you are a fan or if you want to have gaming at its best then you can download this and enjoy its gaming powers even today.